Forward To A Friend

The Amana Trust Newsletter features Radio broadcast updates, upcoming events, bookstore offers, and excerpts of ministry from Witness Lee.
AMANA TRUST NEWSLETTER
"[B]eing nourished with the words of the faith and of the good teaching which you have closely followed." 1 Timothy 4:6
November 2015
Life-study of the Bible Radio Broadcast
The subject of 1 John is "The Fellowship of the Divine Life", the subject of 2 John is "Prohibition against Participation in Heresy", and the subject of 3 John is "Encouragement to the Fellow Workers in the Truth".
Life-study of the Bible is a book-by-book commentary on the Scriptures. In listening to Life-study of the Bible, we anticipate that you would be brought into a deeper enjoyment of the Scriptures and of our dear and precious Lord Jesus. We hope you enjoy listening to the broadcast.
---
Autumn University Conference
November 20thĖ22nd
Bower House, London, UK
---
Special Offers from Amana Trust Books
Life-Study of the Bible
by Witness Lee
Life-study of the Bible is a book-by-book commentary of the Bible to present the truth, minister the life supply, and open up the riches in the Bible. This offer corresponds with the current broadcast schedule of Life-study of the Bible with Witness Lee.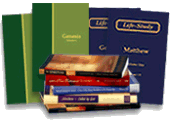 Limited Time Offers
30% off Life-study of Ephesians
30% off Life-study of Philippians Begins November 22nd
---
We are very happy to hear from you and welcome your comments. You can visit us, write to us, or call us using the information below.
Bookshops Near You
East London
Amana Trust
Bower House
Orange Tree Hill,
Romford RM4 1PB
0800 093 9779

01708 380 300
Bookshop opening hours:

Monday-Friday

10am-5.30pm

Saturday

9am-12.30pm
Central London
Amana Trust Bookshop
110 Pentonville Road
Islington
London N1 9JB
020 8617 8252
Bookshop opening hours:

Monday-Friday

10am-5.30pm